Houston's 1st commercial vertical hydroponic farm located inside the Houston city limits began in 2016. By 2019, we were moving into our state of the art 20,000 square foot greenhouse. We use space age technology to solve real world problems. We sustainably grow lettuces, microgreens, herbs, and edible flowers using a closed loop hydroponic system. 
We work with chef's, distributors, restaurants, hotels, cafés, and the community through our farm direct box program. We provide our communities year-round access to safe, high quality produce with as little environmental impact as possible.
We believe that hydroponics and sustainable city farming are the future. Our current food systems are vastly inefficient with food waste, rampant pesticide use, transport emissions, and agricultural runoff. Closed loop grow systems prevent these problems and help to create higher quality food and local jobs. This is something worth working towards. We plan on growing in a city near you. 
We take multiple steps to reduce our environmental impact. We capture rainwater and use closed loop recycling systems that create no runoff. Most farms will use thousands of gallons of water per day for their crops. Through the use of hydroponics and super absorbent vermiculite media, we use 95% less water than most farms. We compost our waste through our partnership with Happy Earth compost group. We use compostable containers or containers made of recycled plastic. Our crops are grown year-round and delivered on same day or day after harvest. This means reduced food waste, reduced transport emissions, and fresher produce to your table. Fresh produce means highest quality taste and nutrition.
Food Security
With conventional farming, produce can easily be contaminated by irrigation water, soil, manure, or workers hands. With hydroponic farming, we never top water plants, no soil or manure is ever used, and only a few workers are needed for harvesting. This means the risk for food-borne illness is greatly reduced. In addition, studies by the research non-profit, Environmental Working Group, found that pesticide residue is found in 70% of US produce even after washing. We do not use pesticides and our farm personnel ensures contact free handling of product when harvesting and packing product for sale.
Certifications & Awards
Moonflower Farms is USDA GAP/GHP Certified. GAP (Good Agricultural Practices) and GHP (Good Handling Practices) are the foundation of our food safety program. We grow using organic techniques and are now pursuing USDA Organic certification. In addition, we are the recipient of the 2020 American Heart Association Foodscape Innovation™ Excellence Award and in 2016 Moonflower Farms was the recipient of The Houston Hispanic Chamber of Commerce's Hispanic Emerging Business of the year award.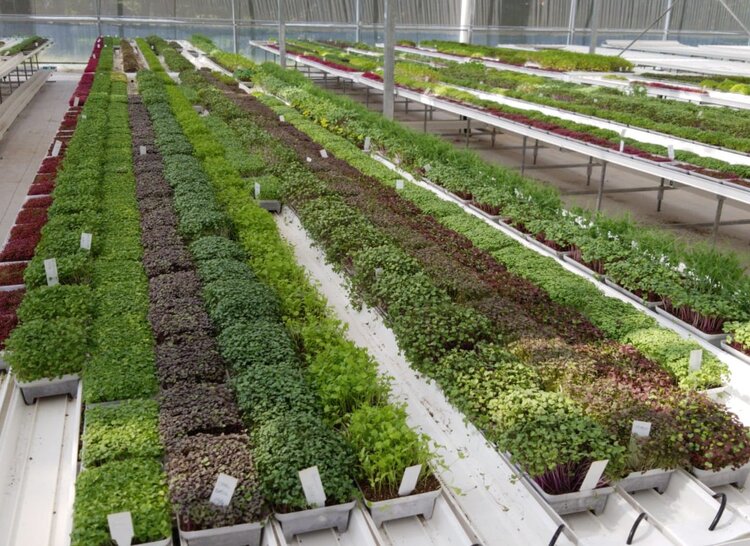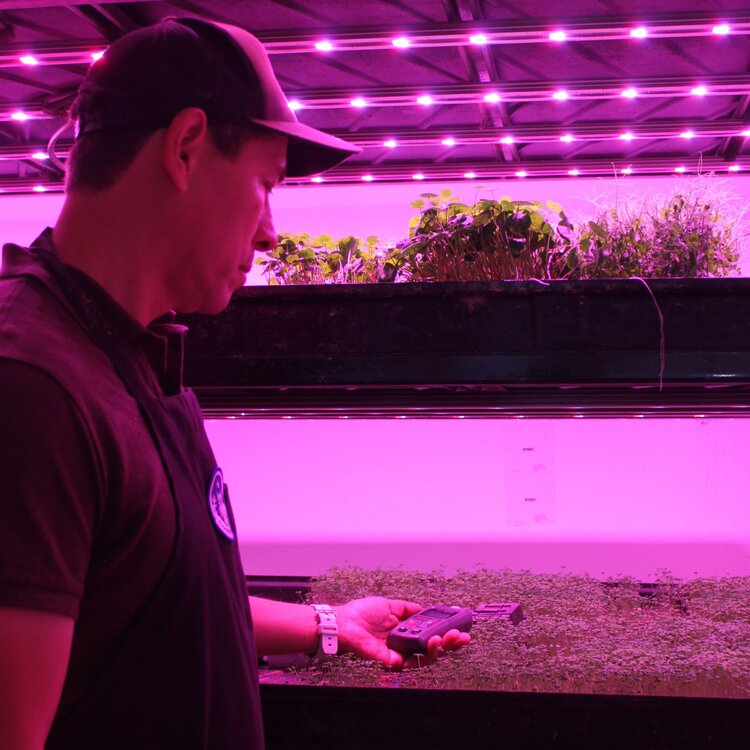 Sorry, we have no Moonflower Farms products at the moment. Check back soon!